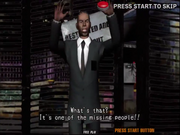 The
Hostages
are missing people who are being held captive by the clowns and other monsters at Frightfearland. The two agents must rescue as many of them as possible. Once a hostage is rescued, their photo will add to the number of hostages you've saved. Shooting a hostage will earn a loss of health. There are a total of 100 hostages in the game.
Misao Shiraishi
Sung Sang
Ada Corynn
Ada Ciro
Darian Ira
Tamika Blythe
Dubaku Tonga
Lerato Lindiwe
Odell Frank
Romey Teale
Sacha Liliane
Darell Rudy
Aldous Ike
Kitty Divina
Marlyn Coby
Jing Wang
Adriana Dottie
Jaden Hayden
Anouk Nicolette
Vivenne Wanda
Noella Sylvaine
Takashi Gouda
Madison Asher
Donnie Chandler
Chen Hong

Yun Zhong
Osin Christabella
Myung Young
Sheldon Christopher
Hyun Kim
Takeko Asada
Takuya Suzuki
Kazumi Nagaoka
Bronte Alfreda
Mie Sakai
Gosuke Okamura
Lee Jin
Aletha Kacey
Peter Michael
Keisa Winter
Philip Shane
Yukiko Imada
Drea Shanna
Lucian Smith
Yong Fen
Itumeleng Munashe
Naomi Rosalind
Hardy Kemp
Andrea Phyllis
Feroze Naveed

Valeria Tulia
Dwain Buck
Kozue Takemoto
Lionel Guy
Raylene Louisa
Ida Zita
Lalia Gae
Lizbeth Diot
Addy Angel
George Redd
Tao Wang
Randal Sampson
Yumi Okada
Rain Vicky
Claude Dyson
Michael Shawn
Jie Liu
Saki Shirakawa
Deidra Porsche
Camille Nicolas
Tuyoshi Yamashiro
Li Wang
Min-hyung Kim
Ariane Angeline
Blad Smith

Nsonowa Kefilwe
Huan Lin
Denzel Lvan
Chin Xue
Wilmot Mou
Mi-young Oh
Royce James
Keira Jami
Elis Palmer
Iona Zahara
Daisuke Tashiro
Fulk Baxter
Jin Sang
Jarred Ned
Jim Victor
Sayuri Minamoto
Chuck Rashawn
Ichiro Tanaka
Alyssia Shawnda
Baldwin Caelan
Zuri Zola
Yuya Taguchi
Jaclyn Sarah
Fabien Jules
Muneo Suzuki
Ad blocker interference detected!
Wikia is a free-to-use site that makes money from advertising. We have a modified experience for viewers using ad blockers

Wikia is not accessible if you've made further modifications. Remove the custom ad blocker rule(s) and the page will load as expected.